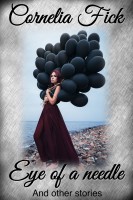 Set in contemporary South Africa, Eye of a needle is a collection of stories that investigates the complex relationships between men and women, and amongst women. A man moves in with a woman but discovers a nasty surprise ('Moving in'), and the relationship between a younger and an older woman is the topic of 'The old suitcase', as well as the short piece 'The right to live'.
Influenced by Lydia Davis, Maxine Chernoff and Flannery O'Connor, the short stories are a combination of flash fiction and longer narratives. 'The right to live' is under 1000 words, as well as 'Getting along', 'Begoogled', etc.
Experimental forms of storytelling are next to more traditional fiction. 'Running a stop street' and 'Thoughts of a soldier' experiment with punctuation, 'Opposites attract' uses the same sentence structure to demonstrate oppositional concepts, while 'Love at first bite' takes a cheeky look at love through the lens of a Mills & Boon novel.
The content is a mixture of realism and fantasy. The gritty reality of 'Shadow kids' coexists with the imaginary world created in 'Akere'. The fable 'Courage the mouse' is light and playful while 'To die for' describes an abusive relationship.
Recurring themes are the battles of women, their abuse, the experience of being the outsider, and the difficulties of growing old.
Told in the first, second and third person the stories in the collection are designed to take the reader on a journey into the writer's world with passion, insight and humour.